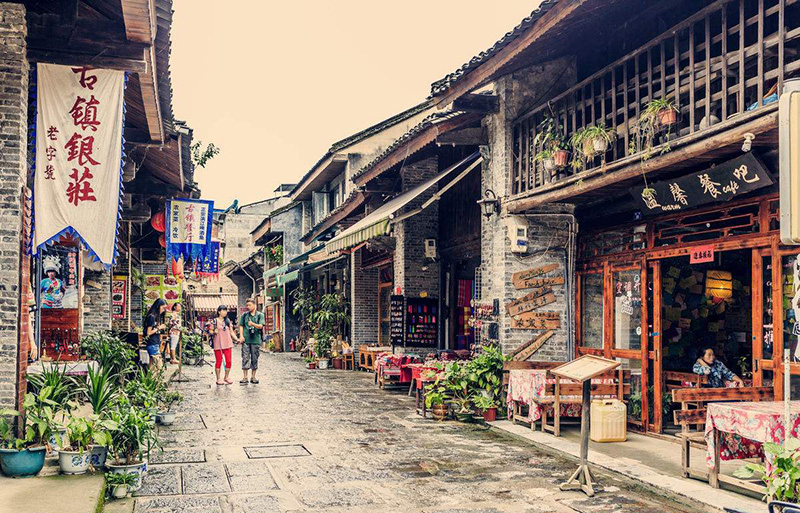 Xingping Ancient Town is located at the northeast part of Yangshuo County (yáng shuò xiàn 阳朔县), 25 kilometers away from the urban area. The town is based on the hill at the back and overlooking the Li River . It is regarded as the most beautiful ancient town along the Li River.
As early as in the Three Kingdoms Period, the town was erected, and it belonged to Xiping County . In the Sui Dynasty , Xiping County was changed into Yangshuo County, thus Xingping Town was dominated by Yangshuo.
There are many cultural relics in Xingping, which are mainly located at the Xingping Ancient Street and the fishing village. Xingping Ancient Street is more than 1 kilometer long, which was laid with flagstones. It begins from the southeast part of the town and ends at the Rongshu Pool and the dock of the Li River, which makes the come-and-go of the common people and the business man much more convenient. On both sides of the street, there are the well-preserved assembly halls of every province. On the northeast part of the street, it is the Shizidan which is the relics of the Xiping County. The profile of the city walls is still obvious. And the ancient bricks and the piles can be seen everywhere. The once prosperous county is now solemn and silent. The ancient banyan tree which was planted when the county was erected is now with luxuriant foliages. The trunk is so thick that 8 people can just get their arms around.