See the most beautiful attractions of Zhangjiajie, featuring pristine natural scenery of grotesque peaks, clear water, and dense forests. Grasp the chance to visit the world's longest and highest glass-bottomed bridge- the Grand Canyon Glass Bridge.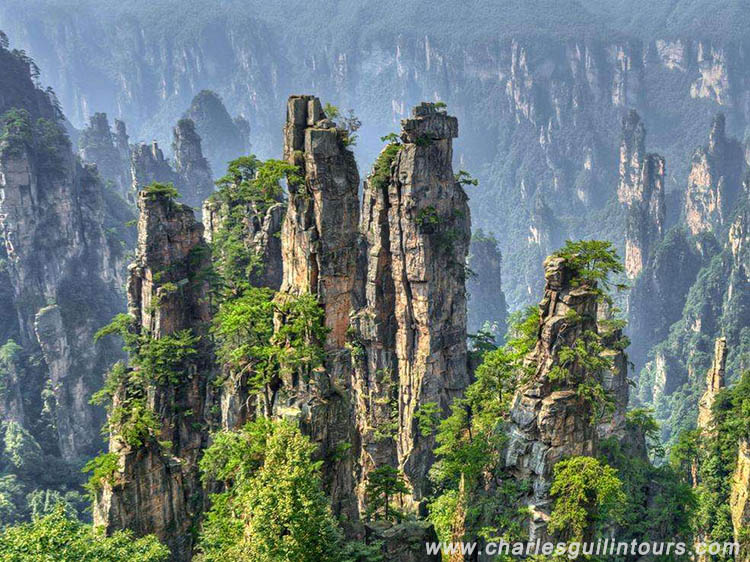 Tian men mountain national forest park
Highlights
★ Peculiar sandstone peaks - the closest thing on earth to the Hallelujah Mountains
★ Newly discovered Zangjiajie Scenic Area with a mountain fort
★ The world's longest cable car to Tianmen mountain top
★ Glass walkway suspended at 1,430 meters high
★ Enjoy a relaxing boat ride at crystal-clear Baofeng Lake
★ Visit the world-record-holding Zhangjiajie Grand Canyon Glass Bridge!
4 Days Amazing of Zhangjiajie tour (Hunan province)
Tour type : private tour
tour duration: 4 Days
tour price per person CNY - Chinese Yuan
1 p.p

2 p.p

3 p.p

4 p.p

5 p.p

6 p.p

7 p.p

3910

CNY

2880

CNY

2615

CNY

2360

CNY

2130

CNY

1950

CNY

1820

CNY
price inclusions:
tour guide Private car or MPV Van Entrance fees service charges taxes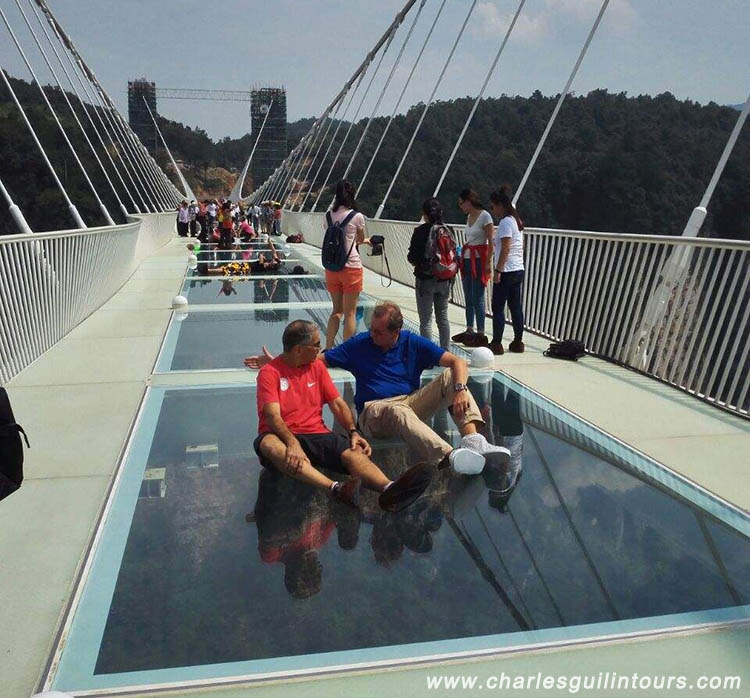 The world's first longest glass bridge
itinerary overview
DAY 1 Zhangjiajie Arrival
Most flights land in Zhangjiajie in the evening. Upon arrival your local tour guide will meet you at the arrival hall of the airport with a name plate. If you arrive by train, your local tour guide will meet you with a name plate at the exit of the train station.
After meeting your tour guide, he/she will take you by private van and driver to your hotel. Have a good rest and be ready for the next day's tour.
DAY 2 Zhangjiajie National Forest Park: Yuanjiajie and Tianzi Mountain
The tour starts after breakfast at your hotel. Your guide, driver and van will pick you up at your hotel and take you to Wulingyuan Scenic Area, where Zhangjiajie National Forest Park is located, to visit its two most classic and popular attractions.
Take a cable car up Tianzi Mountain, and you will see large areas of grotesque peaks thrusting up below. Walking along the steps spectacular views unfold in front of you from different angles.
In the afternoon, ride a public shuttle bus to Yuanjiajie Scenic Area, whose mountains are said to be the inspiration for Avatar's Hallelujah Mountain. This area is the most visited area due to its fame. It takes about 1 hour to walk the tourist trails, before you take the shuttle bus for the cable car down the mountain.
There is another option for getting down the mountain - Bailong Elevator. This glass elevator was built on the side of a cliff, and it claims to be the world's highest of its kind. It takes only 2 minutes, but at peak times you might need to queue one or two hours to take it. If you are interested in taking the elevator, tell your guide in advance, so that he/she can arrange beforehand to avoid the long queues.
Retire to a hotel near Zhangjiajie National Forest Park, to save time on transportation and avoid morning crowds on day 3.
DAY 3 Grand Canyon with Glass Bridge; Back to the city to visit Baofeng Lake
Breakfasts offered at the hotels are usually Chinese-style
Zhangjiajie Grand Canyon is a recently developed natural wonderland. It incorporates mountains, streams, caves, cliffs and forest. The world's longest & highest glass-bottomed bridge is located in this area. Walking along this glass bridge 300 meters above ground-level will be one of the coolest experiences of your tour!
NB. If you prefer not to walk on the bridge, we'll take another route to visit the area.
Baofeng Lake is in a basin in the middle of this mountainous area. You need to walk about 20 minutes to reach the lake; then you'll enjoy a 30-minute ride in a wooden boat. It is a leisurely experience as you cruise on the clear water, view hills of various shapes, and enjoy the entertainment of local minority people singing their traditional songs.
DAY 4 Tianmen Mountain; Zhangjiajie Departure
Breakfast
Your heart will beat fast at Tianmen Mountain on the world's longest cable car, the suspended glass walkway almost a mile (1,430 meters) above the ground, and the '99 Bends' mountain road.
Tianmen Mountain is regarded as the 'soul' of Zhangjiajie, its highest mountain. The views include graceful ancient trees, karst hillocks and long roads that are carved from the sides of the cliff. The cable car takes 30 minutes from the city center to the mountain top and is the longest cable in the world.
Tianmen Cave (literally 'Heaven's Gate Hole') is a 30-meter-high hole formed naturally in the mountain like a doorway, well-known for being glided through by a world-class stuntman in a wing suit. To reach the hole, you can climb for about half an hour up the 'Stairway to Heaven'.
After the trip we will send you to the airport and wave goodbye.